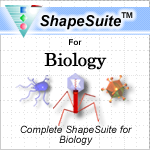 ShapeSuite for Biology from Visimation has 500 vector based clip art images compatible with Visio®.

Try BioGeek Clip Art right here right now.
Here is a little exercise to show you how easy it is to use biogeek clip art.
Its the ______ ( day, morning, hour ) before you give your presentation for the ______ (boss, big Prof, supreme being) and you don't have that picture of a glycosylated protein you need.

Last night while watching ______(Alias, ball, American Idol, CSI) and laying on the couch you were confident you could get it from the _____(journal, scanner, over achieving lab geek) even if you waited until the very last minute. But today the journal was stolen, the scanner is broken and the boring but reliable geek got a real job and left in the middle of the night. Now what are you going to do? If you had biogeek clip art you would be fully prepared for this graphics emergency!
Now try this exercise. You use your browser to find the image you want either over the internet, or off your very own CD. Next you copy the image from your browser and paste it into your presentation. Try it now with one of the images from this column! See how easy that was?
biogeek clip art contains over 600

images in GIF format. They have been designed with transparent backgrounds so that you can instantly cut and paste them into any document you want. And if you really want to make a good impression, try the biogeek slide templates. These are custom made biology inspired backgrounds (100 of em at last count) that can be used for presentations, seminar announcements, and biogeek party invitations!
Not convinced? You can see a preview over on the biogeek clip art page. Now your ready! To enter the buy-o-geek store, just click here. Thanks for stopping by our site.
What's new at biogeek.com
Instant Downloads!
Now we are finally going to catch up to the 21st century. Image collections are now available for instant download here, and we are in the process of adding more images all the time.
Are you looking for high resolution images? We have put some high rez images on istockphoto. If you are looking for design or advertising quality images let us know and we can make them available. Click here to go to the istockphoto gallery
Move into the 21st Century digital age (Get your old film or slides scanned into digital files).
Do you have color slides that you would like to have in digital format? Whether it's data slides, a presentation slide with the only copy of a hard to duplicate figure or maybe just the beautiful sunset from that last Keystone meeting you were at, imagerylab.com can scan them with beautiful color accuracy and even remove the dirt and scratches. It worth a visit just to check out their gallery.
Now its Vampire bats that run
"Keep your head up" is only good advice if you are golfing or looking for snakes in the sky (see below). It turns out that Vampire bats attack from the ground. Even worse, new research shows that they can run. Just click here to see the little buggers doing their treadmill work.
The next creepy thing to hit the Bio news cables were these video clips of running octopi. Yes you read that correctly, octopi running (underwater, thankfully they are venomous after all). Go here to take a look for yourself, but be warned, it's a little unsettling even for a biologist.
Next surf on over to the flying snakes web page, they have updated the site and it now includes movies and they are just awesome. If you find the thought of a flying snake hard to believe, then check out the clip that shows the snake launch off its platform, then make a hard left to swoop over the heads of the startled grad students on the snake retrieval squad. Watching these clips just made me laugh with glee.
Bio-Lore and the summer help.
Every summer, our labs are filled with high school students. We take them in and set them on the path to becoming full fledged biogeeks. The problem is they ask a lot of questions which can be annoying especially if you are not sure of the textbook correct answer. When this happens, you have a choice, and from what I have seen, people really, really, hate to use the words "I don't know". Here is an example to test your mentor qualifications.
In the sterile tissue culture hood, 70% Ethanol is used to clean and sterilize the hood after (depending on who you work with) it has been used. "Why not 100% or 90% ?" asks the student. You answer:
A. "The good stuff is too expensive".
B. "You have to have at least 30% water in order for it to kill contaminant organisms".
C. "More than 70% and it will corrode the stainless steel".
D. "Never mind, I need you to got to the stock room for me".
E. "The water acts as a solvent so 70% cleans better than 95%".
F. "I never really thought about it, its always been done that way. Don't forget to empty all the biohazard waste"
Biogeek Revolution
The revolution is upon us, here are some of the signs.
Biotechnology will change us. Genetic engineering, protein engineering, cloning, bioinformatics, proteomics and pharmiconomics will fuel the process that results in a world radically different than the one we live in now. ----continued-->.
While some members of the scientific and medical communities argue that gene therapy will never work, others are trying to prevent if from becoming the next hot thing in enhancing athletic performance. As reported in this wired article, gene therapy abuse by athletes is already a subject of study by sports officials and scientists.
Doctors, athletes, performance enhancement, what pops into your head next? That's right, Lawyers! The lawyers figure to be big winners in the biotech revolution, and this article points out the legal conflicts that will be clogging our courts in the coming years.
PathViz™ From Visimation Inc. Provides Scientists with Drawing Automation for Cellular Pathway and Cellular Signaling Diagrams

Thursday, May 15, 2003

SEATTLE, WA, May 15 – Visimation Inc. (www.visimation.com) today released PathViz™ 2.0, an add-on application for Microsoft® Visio® 2002 that greatly eases the creation of cellular pathways and cellular signaling diagrams used in pharmaceutical research, proteomics, and bioinformatics.

Scientists need the ability to communicate their findings in a clear and concise graphic format. PathViz is a powerful graphics tool designed specifically for creating diagrams that illustrate the results of research experiments that determine the interaction of proteins and other molecules within living cells. The software supports pathway diagramming methodologies from the Alliance for Cellular Signaling (AfCS) and Dr. Kurt W. Kohn of the National Cancer Institute Center for Cancer Research.

After releasing PathViz 1.0 in April of 2002, Visimation continued to develop the product with advice from researchers including Luca Toldo, PhD of Merck KGaA, a global pharmaceutical company with headquarters in Darmstadt, Germany. Dr. Toldo is well known in the field of bioinformatics, the application of computational tools to medical and health data. Dr. Toldo's team used PathViz to produce a large number of cellular pathways and cellular signaling drawings.

According to Dr. Toldo, "PathViz 2.0 from Visimation is a very appropriate tool for recording and publishing regulatory pathways. It greatly facilitates the generation of very appealing diagrams in several publishing formats as well as bioinformatics friendly XML." Emphasizing how PathViz eases deployment of research results to others, Dr. Toldo adds, "PathViz provides a user interface that is easy to navigate and can be published to an intranet or public web site. It provides a user-definable ontology that delivers a consistent look for the same molecular entity across any set of drawings." With regards to the evaluation process, Dr. Toldo further remarked that "Visimation developers implemented our users' advice very quickly into their already stable code. If you perform knowledge extraction from drawings or you maintain a biological graph knowledge-base, you certainly should consider PathViz."

PathViz provides a rich set of symbols for proteins, molecules, and interactions as well as many time saving automation features for placing these symbols and showing their interactions. The user works in a familiar drawing environment, structuring the elements to accurately document molecular interactions. PathViz significantly eases drawing layout by maintaining proper connections between symbols as the user moves them around the page.

PathViz requires Microsoft Visio 2002 and runs on Microsoft Windows 98, 2000, NT, and XP operating systems.

About Visimation Inc.

Since 1997, Visimation has helped companies improve their productivity by providing visual software tools to ease business and technical tasks. Visimation offers a broad range of services focusing on Microsoft Visio, Microsoft Project, and other Microsoft Office family products to rapidly deploy efficient automation solutions. Services include consulting, custom development, and training. Visimation also sells downloadable products for business, technical, and scientific uses at the company's online store accessible from www.visimation.com.

Visimation is a Microsoft Certified Partner, Microsoft Visio Premier Partner, Microsoft Project Partner, and MapPoint Alliance Partner.

Top 10 reasons you went into Science.
10. It seemed like the thing to do at the time.
9. You wanted to make a lot of money.
8. You get to spend other peoples money, and get paid for it?
7. It was the easiest way to get one of those lab coats. ---continued--->
Virtually Stimulating
We all know that electromagnetic fields have no direct effects on living organisms right? I mean every 60 Minutes episode I have ever seen doing an expose on the hazards of living under high voltage lines has not been able to come up with any conclusive evidence. Same for cell phones, all the studies say there is no evidence that they cause brain tumors. Experts may allow that it is not real clever to stick a powerful radio transmitter next to your brain, but nobody is willing to go on record as to exactly why.
While surfing the Net, I recently came across some pretty good reasons. For example, check out the following paper from Nature Neuroscience written by some of those Harvard people: Enhanced visual spatial attention ipsilateral to rTMS-induced 'virtual lesions' of human parietal cortex. Hilgeag,C. Theoret,H. and Pascual-Leone, A. Nature Neuroscience September 2001 Volume 4 Number 9 pp. 953-957. Now this is good, clean biogeek fun. All you need is a MagStim SuperRapid stimulator (keep reading, it's not what it sounds like) with a 70-mm figure-eight coil and you can create a virtual lesion in a human brain that will last between 5 and 15 minutes. Perfectly harmless, just remember to stay in the lab while you're playing with it.
And, of course, the boys and girls in Boston are not the only ones playing with these things, where academia leads, the military is not far behind. Surf on over to this article found on Wired's web site. In the article "New Weapons for a New War", an electromagnetic weapon is described. "VMADS will send a narrow beam of electromagnetic energy toward a person or a small group of people. The idea is to cause extreme pain -- but no permanent damage." Non-lethal weapons are an exciting new area for the military. Just do a search on VMADS if you're looking for a little controversy.
On a more positive note, try visiting curatron.com, a commercial site that sells electromagnetic therapy products. Yes, I am skeptical too and while the site does not seem as matter-of-factly bizarre as magstim.com, it does offer a list of references, some of them are even from recognized refereed journals!